What is ATTRACT?
Developing breakthrough technologies for science and society
Why is there no European Google or Amazon? Why have some of Europe's hottest start-ups, such as Sweden's Spotify, moved to Silicon Valley? It is not for lack of great technology or breakthrough science. It is because the mechanism for scaling up promising ventures to global markets is simply not working.
Many technologies leading to breakthrough innovations with a big impact on people's lives stem from fundamental research. ATTRACT is a pioneering initiative bringing together Europe's fundamental research and industrial communities to lead the next generation of detection and imaging technologies.
For the first time, a consortium of big research organisations – that build and operate telescopes, particle accelerators and other capital-intensive scientific instruments – will be explicitly leveraged to capture value and create jobs and growth. For this, ATTRACT will enlist large companies, experienced venture capitalists, and individual investors alike. The aim is to create an entirely new, European model of Open Innovation that can become an engine for jobs and prosperity for all.
Funded by the European Union's Horizon 2020 programme, the project aims to help revamp Europe's economy and improve people's lives by creating products, services, companies and jobs.
THE IDEA
Create a co-innovation ecosystem between fundamental research and industrial communities to develop breakthrough detection and imaging technologies for scientific and commercial uses
THE OUTCOME
A bigger return on Europe's scientific investment that will benefit both the economy and society at large
Detection and imaging technologies:
key enablers for breakthrough innovation
Detection & imaging technologies
affect all major technology areas
Illustration inspired by
Frost & Sullivan Top 50 Technologies Web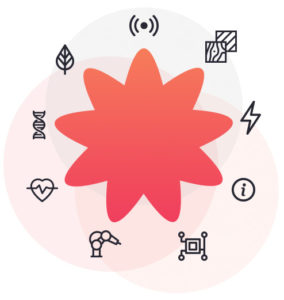 Cutting-edge detection and imaging technologies – the core research target of ATTRACT – play a key role as enablers for all major technology areas. Most future scientific advances, technical applications, commercially worthwhile products and businesses targeting emerging societal challenges rely on these technologies in one way or another.
Can new networks of sensors be installed in big farms to make agriculture more productive and less energy-intensive? Can smarter use of monitoring and Big Data analysis make factories work better, cheaper and greener? Can we use sensors to help the visually impaired navigate the world more easily? Can we develop better forms of online learning? Can we pioneer ways to monitor our changing climate more accurately and cost-effectively and develop strategies to mitigate the damage?
Answering these questions requires an open innovation mindset so that breakthrough innovation concepts can be rapidly identified, assessed and industrially scaled by multiple experts throughout the innovation value chain.
To achieve this, ATTRACT will couple national and European Research Infrastructures, universities and research organisations with actors who can extract societally relevant and commercially interesting innovations from them.
From Open Science to Open Innovation
Traditional incremental innovations may bring about positive impacts on societal challenges, but getting ideas and hunches realised is a lengthy process. The ATTRACT methodology aims to springboard science towards actors with vision for innovation potential.
In contrast to incremental innovation, which generates reactive or adaptive responses to a problem, breakthrough innovation is driven by a desire to anticipate emerging or future needs.
These innovations trigger transformations in the way we think about societally challenging issues or identify solutions that will have real impact on people's lives – for example smaller, portable scanners for patient treatment outside of the hospital, or replacing airplane windows with virtual images which reduces fuel consumption and increases safety of the aircraft.
However, the process of developing new science into technologies that enable breakthrough innovation often happens by serendipity. ATTRACT aims to create and deploy mechanisms and frameworks for systematically achieving such transformation.
By coupling research and innovation to a pipeline of entrepreneurial talent and public and private funding opportunities, ATTRACT seeks to boost Europe's Horizon 2020 Programme. The initiative will promote world-class open science with a view to delivering innovative, future-driven solutions capable of enhancing economic and inclusive growth for a competitive Europe.
Project Work Plan and deliverables